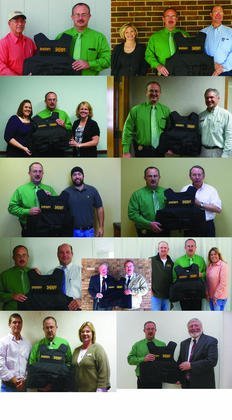 Thanks to 13 local businesses, civic organizations and individuals, Sharp County sheriff's deputies will be safer as they serve the community.
When Sharp County Sheriff Mark Counts took office in January, he began a quest to insure all his officers were outfitted in new body armour. Grants that would normally make the vests available to the law enforcement officers were not available this fiscal year. So Counts, joined by local business woman Renee Clay-Circle, turned to the community to fund the 13 pieces of new body armour.
Nov. 9, the fundraising effort paid off, as vests to outfit every officer arrived at the Sheriff's Department. Each officer was provided with a custom fitted piece of new body armour.
Counts said he was extremely grateful to the businesses and civic organizations who donated the $7,620 to cover the cost.
Counts and Circle made visits all around the county, personally thanking each business for their support and generosity.