BodyArmorNews.com, the world's pre-eminent destination for body armor information, is the most comprehensive and valuable online source for professionals, department decision makers and department decision influencers. BodyArmorNews.com allows you to target your company's message to the right audience at the right time.
The web page below provides a visual reference of available advertising space at BodyArmorNews.com.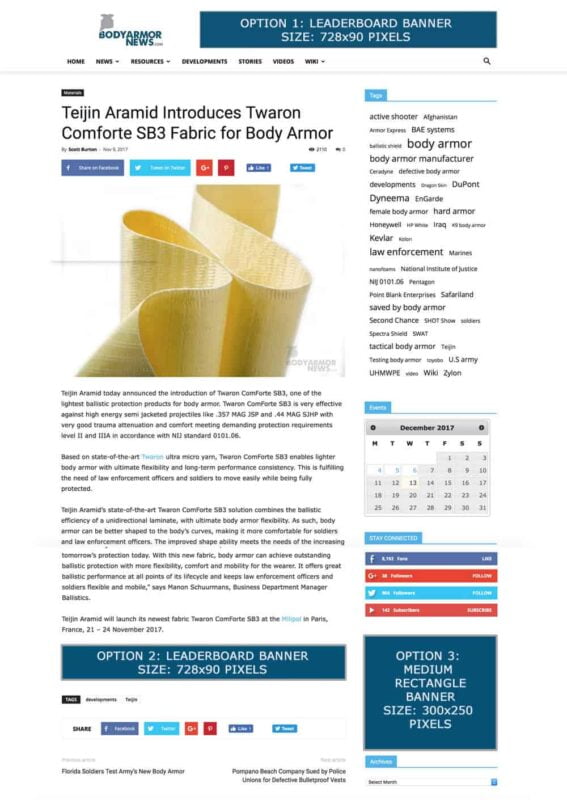 All banner advertising options listed below can be purchased separately or we can customise a package to suit your marketing requirements.
Option 1: Leaderboard Banner
Size: 728 x 90 pixels
Position: This banner will display at top of page.
Details: Appears at top of site on ALL pages across the website and is ideal for branding and awareness.
Cost per month: US$ 850
Minimum period: 3 months (advance payment)
Status: 1 Available
Option 2: In-article Leaderboard Banner
Size: 728 x 90 pixels
Position: This banner will display in each of our artciles.
Details: Appears inside ALL articles across the website.
Cost per month: US$ 600
Minimum period: 3 months (advance payment)
Status: 1 Available
Option 3: Medium Rectangle Banner
Size: 300 x 250 pixels
Position: This banner will display in a random rotation at right side of page
Details: Rotating banner ads (maximum of 6) appears on ALL pages across the site. Appears at right side of page.
Cost per month: US$ 500
Minimum period: 3 months (advance payment)
Status: 2 Available
Option 4: Text Link At Resource Category
Size: n.a.
Details: Company name  (maximum of 10 per category) with do follow link
Position: At resource page. E.g. Body Armor Manufacturers
Cost per year: US$ 350
Minimum period: 12 months (advance payment)