How to construct a bullet proof vest?

Since we get this question a lot, we decided to put together this little primer to answer the question how to make a bullet proof vest? How bullet proof textiles and clothing are made is really quite fascinating.
It All Starts With a Thread
In order to make any clothing you must first have thread. The threads that make bullet proof textiles are products like Kevlar®, which is produced by spinning a solid fiber from a liquid chemical blend. Another thread called Dyneema®, is manufactured by means of a gel-spinning process that yields a soft, flexible fiber that is 15 times stronger than steel.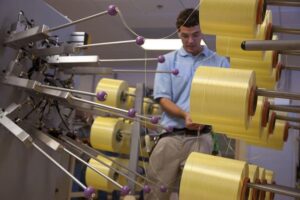 The Thread Makes Yarn
These extremely durable threads are fed through a special machine that wraps and stretches them into yarn. A yarn is a long continuous length of interlocked threads. The yarn, which looks like string or cord, is really the key to answering the question about how to make a bullet proof vest.
The Yarn Makes Sheet Materials
The yarn is suitable for use in the production of textiles which are made by weaving the yarn in large industrial processing machines. By weaving the yarns in a special process, ballistic material manufacturers can produce the final sheet material from which bullet proof panels are made.