This article is highlighting the extreme global problem knives and those who carry them unlawfully has become, and the risk faced by law enforcement and security professionals alike.
I remember many conversations I had with other professionals in the past, and I remember them saying that only guns kill, and knives don't play a role in multiple/mass killings.
Let me highlight just a few headlines of some rather horrendous violent incidents involving edged weapons from around the world, helping us to understand that it is a global issue, not limited to a certain belief, language, culture or country.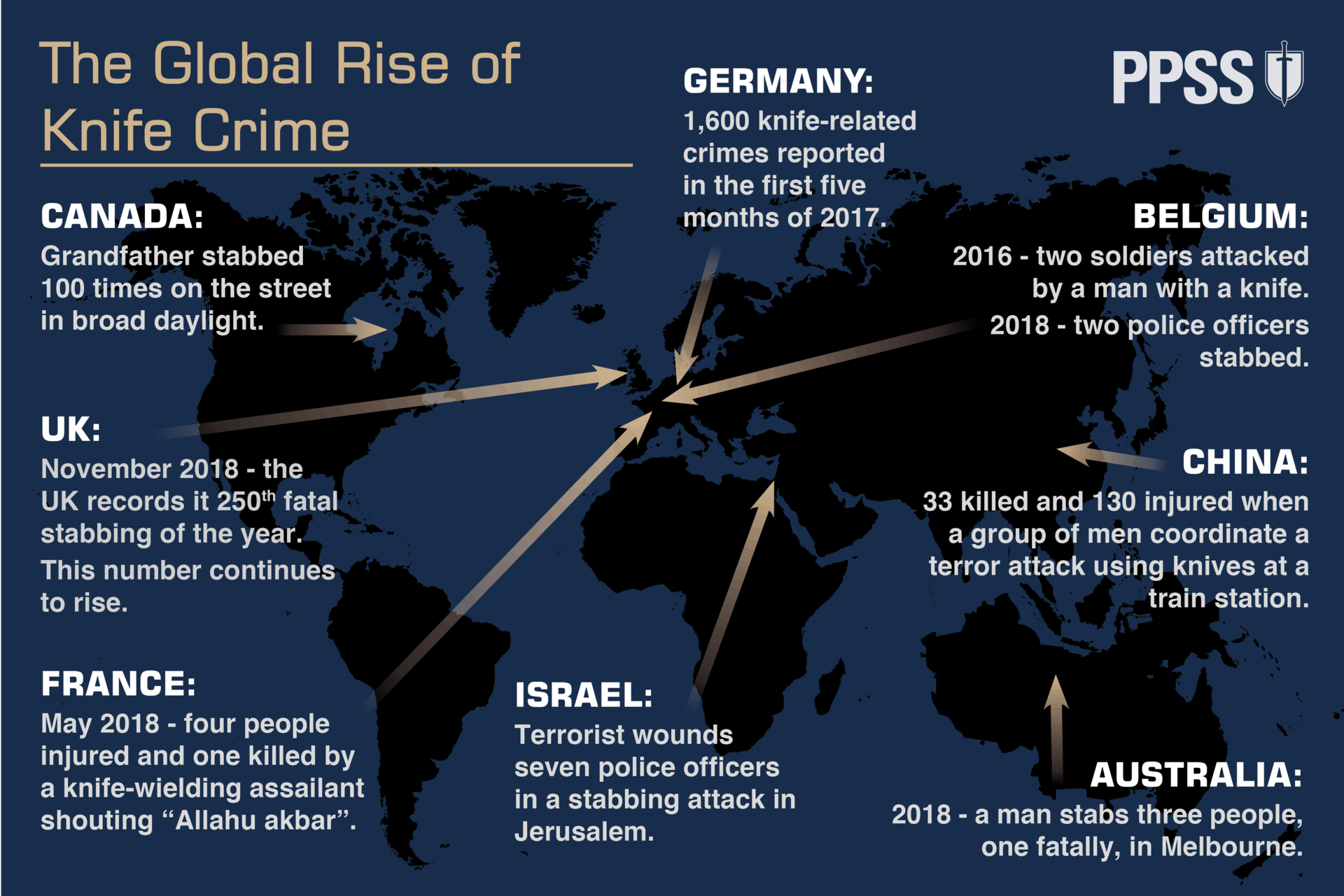 • China: 33 people were killed and 130 more were injured during a terror attack using knives at a train station in 2014. In 2015 a group of 50 workers at a Chinese coal mine were killed in a coordinated knife attack. In 2016 a man killed 15 people and injured 45 in a facility for the disabled. In 2018 a group of 13 people were seriously injured by a knife-wielding assailant in Beijing.
• Belgium: In 2016, two soldiers were attacked by a man with a knife, and a few months ago, a prisoner on a day holiday stabbed two police officers before taking their guns and shooting them. In November 2018 a police officer was attacked by knife-wielding man outside police station in Brussels.
• Germany: Newspapers reported about a serious increase in knife crime: "…more than 1,600 knife-related crimes were reported in Germany during just the first five months of 2017, an average of 300 each month, or 10 each day."
• United Kingdom: The 250th fatal stabbing of 2018 in the UK was recorded on the 7th November when a 16 years young male lost his life. The Office for National Statistics (ONS) said the 14,987 knife crimes in the year until the end of June was a 15 percent rise compared to the previous 12 months.
• France: In May 2018, four people were injured, and one was killed when a knife-wielding assailant shouting 'Allahu akbar' attacked them in Paris. Another incident that made the news in France was when seven people were injured, by a man wielding a knife.
• Australia: On the 9th November, a man set a car on fire and stabbed three people in Melbourne, one fatally.
• Israel: During the Knife Intifada and immediate aftermath, according to Shin Bet, between October 2015 and October 2016 there was a total of 166 stabbing attacks and 89 attempted stabbings.
Why the increase in such violent crime?
In my professional opinion, there are five key contributing factor to the increase of violent crimes involving edged weapons.
• Religious/Political Extremism – If you are so misguided and extremely blinded, and truly believe that harming or killing others is the absolute only way you can reach happiness/fulfilment or reach your goal, then you are unlikely to stop from 'proceeding' with your action.
• Drugs – the production of, the trafficking of, and the dealing with drugs has always and will always bring violence along. It simply comes as a 'package'. One cannot produce, transport and deal with drugs without enforcing certain aspects during the process.
• Poverty & Social Exclusion –Knife crime is mostly present in the poorest and most deprived places with deeper problems such as poverty and social exclusion. That subsequent missing 'sense of belonging' often leads to the desire of wanting to become a member of a gang, which ultimately leads to the need of carrying and ultimately using a knife.
• Social Media – Some experts arguing that social media means everything to these knife carrying criminals, and that there might have been situations in the past where someone would have walked away and backed down, but now people are recording these attacks and videos of major knife attacks. These videos are being streamed millions of times, offering each one that 'minute of fame' and more 'followers'.
• Serious Mental Illness – Many of those who have been responsible for multiple killings using edged weapons have been diagnosed with serious mental illnesses before or after the killings.
But why the clear shift from guns to knives?
Due to the threat of global terrorism, Intelligence Services and Law Enforcement Agencies around the world keeping a very close eyes on such weapons. The risk of being arrested during the purchase, transport or sales of firearms is just too high for most terrorists and criminals.
Due to the stringent firearm controls in many regions and the low planning required to conduct a knife attack, knives have recently become the weapon of choice for many so called "lone-wolf" attackers. It is so easy for them and all criminals in general to grab a knife from the kitchen or local hardware store with the aim to hurt and kill others.
Knives are commonly available, and this is not going to change. If one has the intentions to cause harm to others using a knife or edged weapon, then government agencies will always struggle to prevent such atrocity.
Knives are also much more concealable. As it is a crime in many countries to carry an offensive weapon, criminals want to conceal their weapon to avoid detection and arrest. A knife is easier to conceal than a firearm.
A knife is easy to use. Knives are being used more and more because they o no require any training. It almost doesn't matter where you stab that body, it will hurt a lot and possibly kill that person.
Due to the above, more and more homeland security agencies (police, prison, border control, immigration and customs) and private security professionals charged with combating knife crimes are now turning to specialised protective clothing, such as SlashPRO® Slash Resistant Clothing www.slash-pro.com
Robert Kaiser, CEO
PPSS Group