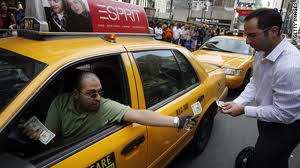 Livery-cab drivers are dressing for battle on the city's meanest streets.
A dozen bulletproof vests were doled out yesterday to the New York State Federation of Taxi Drivers by Midtown-based Security USA in a bid to keep drivers safe.
The donated vests will be used by livery cabbies who work in the city's highest-crime areas, including East New York in Brooklyn, the South Bronx and Jamaica, Queens, said the federation's Sergio Rodriguez.
"We want to be able to leave work and go home to our families," said East New York livery driver Rafael Peña, 51, who was once assaulted by knife- and gun-wielding thugs.
The body-armor giveaway was part of a program started in December by Security USA. Then, the company donated 15 vests to drivers. "We want to make the drivers feel a little more safe," said David Boehm, the head of Security USA.