The body armor industry is one of the fastest-growing industries today. While buying body armor stock from a manufacturer is challenging, buying stock from ballistic material manufacturers is much easier. 
We have identified five companies on the stock exchange to help you to tap into the body armor market.
Getting to know the body armor stock: our recommendations
In this article you will find five companies that supply body armor manufacturers with the protective materials they require to produce body armor. 
Royal DSM
The stock symbol of this company is AMS: DSM. The stock symbol helps you identify the company in the trading market. Therefore, by clicking on the link attached, you can see for yourself the profit and different economic results throughout the years.

Royal DSM is a Dutch company involved in healthcare, nutrition, and protective materials. Their most well-known ballistic material is Dyneema®. Dyneema®  is a composite unidirectional laminate that offers excellent energy absorption and enhanced protection, all in a lightweight solution. The company's stock market capital is around 33 billion euros. 
The graphic below depicts a large increase. In the past five years, the company's valuation has risen by 242%. The corporation rose by 42% in 2021 compared to the previous year.
Royal DSM's body armor stock market chart for the past five years.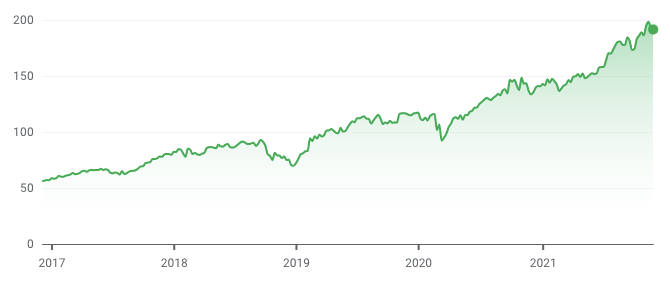 DuPont is an American multinational corporation focused on commercial divisions of chemistry, with about 64,000 employees worldwide, making it one of the world's largest chemical corporations.
It advanced greatly during the 20th century as it developed more than a dozen resistant and defensive materials. Among these is one of the most famous materials in the body armor industry: Kevlar®. Its stock symbol is NYSE: DD. 
DuPont has been in the industry for several years now, and its total payment volume (TPV) is 38 billion USD. As we can see, the company was affected by the Covid-19 crisis, like so many other businesses and entities. However, it has been slowly recovering in the past two years. Dupont is rapidly climbing the body armor stock market again although the pandemic has been tough on it. The company's value has decreased by 8.4% in the last 5 years. This may be a good opportunity to invest.
Dupont's stock market chart for the past five years.
More about Kevlar®
Kevlar was discovered in 1965, although and its commercialization was not possible until almost a decade later. It began to be distributed and used by the DuPont company.
It is an exceptional material beacuse of its lightness and its resistance to breakage. These characteristics allow one to create hundreds of different objects, including panels of body armor with this material.
The hardness of ballistic materials is studied and recorded in units of GPa. For example, a pure steel surface has a value of around 200 GPa. Kevlar has a value of 80 GPa.
Regarding tensile strength, Kevlar registers 3.5 GPa while steel has only 1.5 GPa. This is due to the components of Kevlar, which are structured as a chain. This improves its flexibility. Kevlar is used, in addition to body armor, in helmets or kayaks.
As stated in a Streetdirectory article, "Kevlar is a high strength, high-performance fibre that, despite its many years of use in bulletproof clothing, is still not entirely understood. The best description of how it is believed to function is that the molecules form into sheets that then stack themselves around the centre of fibre-like spokes."
Honeywell
Honeywell is an American multinational corporation that manufactures consumer goods, technical services, and aerospace systems for a diverse range of clients. Other products and sectors Honeywell operates in are telephone receivers and chronotermostats. 
Its stock symbol is NYSE: HON, and it's more known for the manufacturing of the materials Spectra Shield®, Gold Flex® and Gold Shield®.

Although Honeywell did not see a big increase in 2020, the company's market is currently flourishing. In the last five years, its market has jumped 83%. Currently, the business press is paying close attention to the company, as investments have exploded in recent months. Its TVP rounds the 140.84 billion USD mark.
It may be that its price drop during 2020 was due to the pandemic. Although the Covid-19 situation in general has soared the values ​​of body armor companies, Honeywell sells many other products in addition to its protective materials. These other products are the ones that may have been affected, and the ones that may have jeopardized Honeywell's economic positioning in 2020.
Honeywell's stock market chart for the past five years.

Spectra Shield®:
A complex material that usually forms part of body armor and armed vehicles. As Honeywell states:
"Spectra is 15 times stronger than steel, yet light enough to float. It is made from ultra-high-molecular-weight polyethene using a patented gel-spinning process." In other words, it mixes two important characteristics for body armor: resistance and flexibility.
Gold Shield®
Gold Shield GN-2117 is a soft body armor material. It is normally used for military and police vests. It is formed by mixing Shield technology with aramid fibre.
This product also has chemical resistance, which makes it perfect for creating body armor for the military. It is resistant to chemicals because it has resin and a coating system.
As explained by Officer, Gold Shield "has demonstrated up to a 10% weight reduction when compared to Honeywell's traditional Gold Flex material, which is also used in soft armor applications."
Gold Flex®
It is a non-woven material,  normally used in ballistic vests and body armor. It is very light since it is a laminated material with cross-laid fibres. These fibres are laid straight, and not woven. This allows the resistance to bullet penetration to increase.
Gold flex can be interspersed with other panels to increase its hardness, without losing the flexibility and comfort that this material generates.
Teijin
Teijin Limited is a chemical, pharmaceutical, and information technology company headquartered in Japan. The company's core areas of business are high-performance fabrics such as aramid, carbon fibres & composites. Outside the body armor industry, Teijin operates in the sectors of healthcare, films and IT products.
Teijin's stock symbol is TYO: 3401. 
2020 was also a hard year for Teijin because of the Covid-19 pandemic. When observing Teijin's stock market we see that the pandemic affected the company. The company is still trying to recover from these effects. Teijin's TVP equals 265,82 billion in YPJ (234.83 billion US dollars). 
Teijin's stock is currently in a downtrend due to lower sales and profits during the last two years. This could also be an opportunity to invest in the company now.
Teijin's stock market chart for the past five years.
Materials
Twaron® and Endumax® are two Teijin trademarks. Body armor manufacturers use Endumax® to make hard armor options and Twaron® for ballistic vests.
Teijin describes Twaron as "the preferred para-aramid product for manufacturers who want to deliver products that are stronger, lighter, and more resistant. With its unique combination of mechanical properties, chemical resistance, excellent durability and thermal stability, Twaron® can transform a normal product into an extraordinary one. "
Eundmax is 11 times stronger than steel and it can be used from ballistic shields and airfreight cargo containers to nets. In other words, it is extremely versatile and resistant.
Hyosung
Hyosung is a South Korean motorcycle maker. The firm specializes in the manufacture of vehicle parts. Hyosung has a manufacturing capability of 200,000 motorcycles per year and sells its goods both domestically and internationally. Hyosung Motors and Machinery S.A. is the country's biggest motorcycle exporter, with a TVP of $1.8 billion. It is the country's main motorcycle exporter, accounting for around 40% of the Korean market. Is related to the body armor market because it manufactures aramid fabric.
Its stock symbol is  KRX: 004800.
The Covid-19 crisis has also hit this company. In the last year, Hyosung has not only overcome the deficit but increased its value by 24.38%.
Hyosung's stock market chart for the past five years:

Materials
Aramid fibres are a type of synthetic fibre that is both heat tolerant and solid. Manufacturers from diverse sectors employ them for aerospace, industrial applications and body armor fabric. Companies also use aramids in naval cordage and hull insulation. The material is resistant to abrasion and chemicals, is non-conductor and its melting point is high (500ºC).
Although the body stock market is very difficult to understand, we hope to have offered a little insight into some of the leading textile companies today.
The stock market is quite variable, so we recommend being alert to all possible changes and news that may appear.