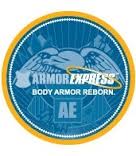 That old story about the phoenix rising from the ashes? It's happening in Central Lake.
Armor Express, the body armor company created by the former leaders and employees of the original Second Chance Body Armor Inc., is moving into the place where, you might say, it was born: the now-vacant Second Chance manufacturing facility in Central Lake.
"The purchase agreement is in place, and we close March 7," says Ed Kiessel, Chief Operating Officer of Armor Express.
The move is a coup. Follow if you can: Armor Express is led by Matt Davis, president and CEO. His father, Richard Davis, founded Second Chance Body Armor in the early '70s. (His inspiration? Being shot while delivering pizzas in Detroit and deciding that he, like all police of that era, needed something more effective than a gun for protection.)
The body armor company, which was relocated to Central Lake shortly after its founding, grew to become the world leader in body armor, a multi-million dollar body armor company with more than 500 employees around the globe and 250 in its Central Lake headquarters.